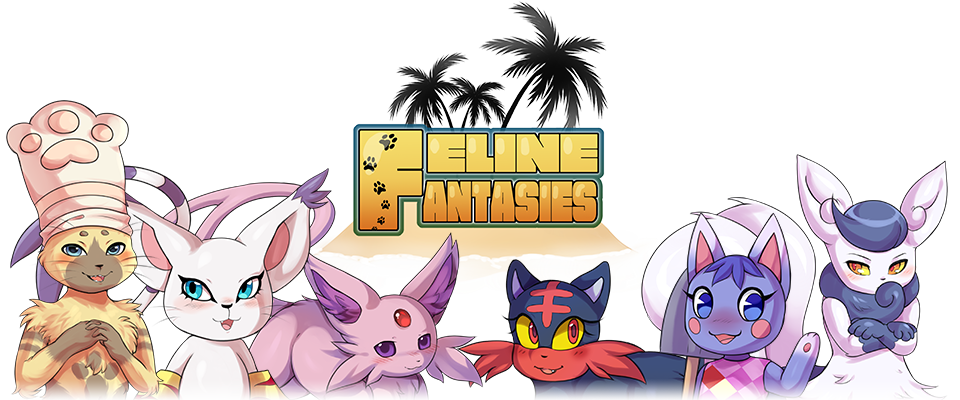 Feline Fantasies
Feline Fantasies v2.0.0 Public Release
---
It is here. You've been waiting for it. Feline Fantasies Part 2.


Patch Note
• Northern Ruby Island available
• New Storylines
• 6 New felines
• UI Overhaul
• 7 new minigames
• Increased wood reward quantity from woodcutting minigame
---

[Retranscription from Patreon]
Hiya guys, TAD here, back again, once again! I hope y'all have been well! As most of y'all know by now, Northern Ruby Island has been completed and was released to my Patrons a week ago! Alongside that Side B made an epic trailer covering it. If you haven't seen it yet, you can find that right here:
https://e621.net/posts/3358750?q=feline_fantasies
And so, since we're a week further, Northern Ruby Island is now officially released to the public as well! :D Head over here to play the new update right now:
https://side-b.itch.io/feline-fantasies
Once again, I'd like to thank everybody who decided to support me. Five years ago, when I got this idea and started it, I'd never think it would turn into anything significant, but thanks to the immense support I've gotten over the years, we've been able to turn this game into a high quality effort. So, once again, thank you all so much! My appreciation is immense! <3
In particular, I'd like to thank Side B who stuck by me through thick and thin. I can't show you enough gratitude, my friend. So thank you! I'd also like to thank Pilitan and Suiro for helping me out so much with this game! Without you guys' help, the game wouldn't be what it is today! <3 I'd also like to give a shout-out to my good friends Bugma and Mystical for helping me play-test the game. Y'all are amazing! ~w~
So, what is left then? Well, since Northern is finally done, it might be that some bugs will be found now that a lot of people will be able to play the game. So for that, we'll use the month of June to monitor the release and fix any mistakes we might find on the way.
Afterwards, we're going to focus our effort on the final part of Feline Fantasies before the main-game is completed. The amount of work is not as much as with Northern, so we hope we don't have to take nearly as long.
If the ending is as much as a success as Southern and Northern have been, a final update consisting of a postgame will be created. Then, Feline Fantasies is completed!
I hope y'all are excited and enjoy this new update! For now, have a great weekend and I will see y'all around either here or in my Discord server! Take care! :3
~TAD
Files
Feline Fantasies - HTML5
Play in browser
Version 2.0.0
Jun 04, 2022
Feline Fantasies - Windows 64 bits
410 MB
Version 2.0.0
Jun 04, 2022
Feline Fantasies - Windows 32 bits
405 MB
Version 2.0.0
Jun 04, 2022
Feline Fantasies - MacOS
407 MB
Version 2.0.0
Jun 04, 2022
Feline Fantasies - Linux
408 MB
Version 2.0.0
Jun 04, 2022