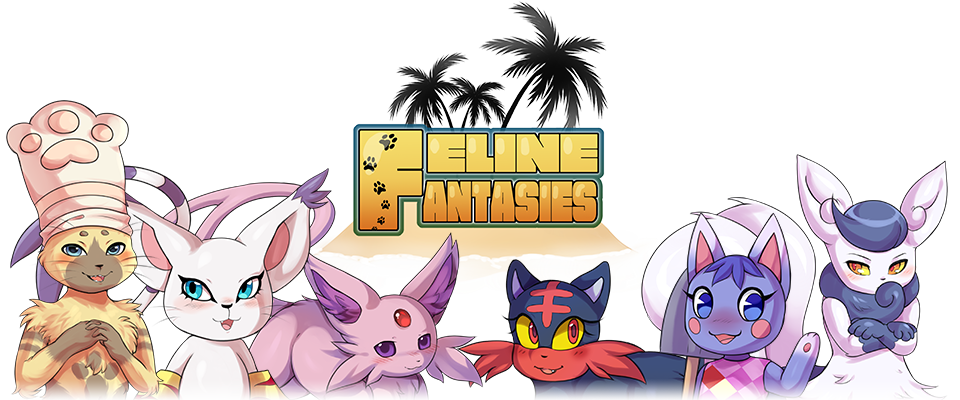 Feline Fantasies
Feline Fantasies general update August 2021
---
[Retranscription from Patreon]


Hiya guys! TAD here back again, once again with an update! As y'all know, we're doing our best to create Northern Ruby Island as fast as possible! Here's our progress from this month!
As of now, Puck's, Blair's and Luna's dialogue trees have all been updated and are ready for implementation. This means their dialogues are final and will not get anymore major updates. The nice thing about this is that Side B can work on implementing them without having to wait on any edits.
Speaking of implementation, Puck's first encounter tree has been implemented, as well as all of the exploration dialogues on Northern Ruby Island! This means that for now, we can fully focus on implementing the main trees! We're currently implementing Puck's tree, which is also the biggest by far! It has 182 entries in total, with a lot of special options and also one of the new mini-games, feline seduction. We're hoping to have her fully functional in the upcoming weeks!
Another great thing is the help of Suiro. He's been developing the other mini-games currently, and most of them are functional and working! That means with a little luck, he can give Side B a hand in implementing felines as well. This would create a significant boost in the time it'll take to develop Northern in total!
Art wise, all of Puck's new art has been completed! The animations for the Magic Book mini-game have been created as well! Next up will be Blair and the animations for the Mining Mini-game!
With the way how we're going, we'll definitely have three out of six felines implemented at the end of the year, maybe even four! ^O^
It gives me a lot of good hope that we may have Northern ready somewhere April next year! Fingers crossed! :P
Anyway, that's it for now! Tomorrow I'm back with another poll and at the end of the week, I'll have Blair's new SFW sketches! Cy'all then, stay safe! :3
~TAD